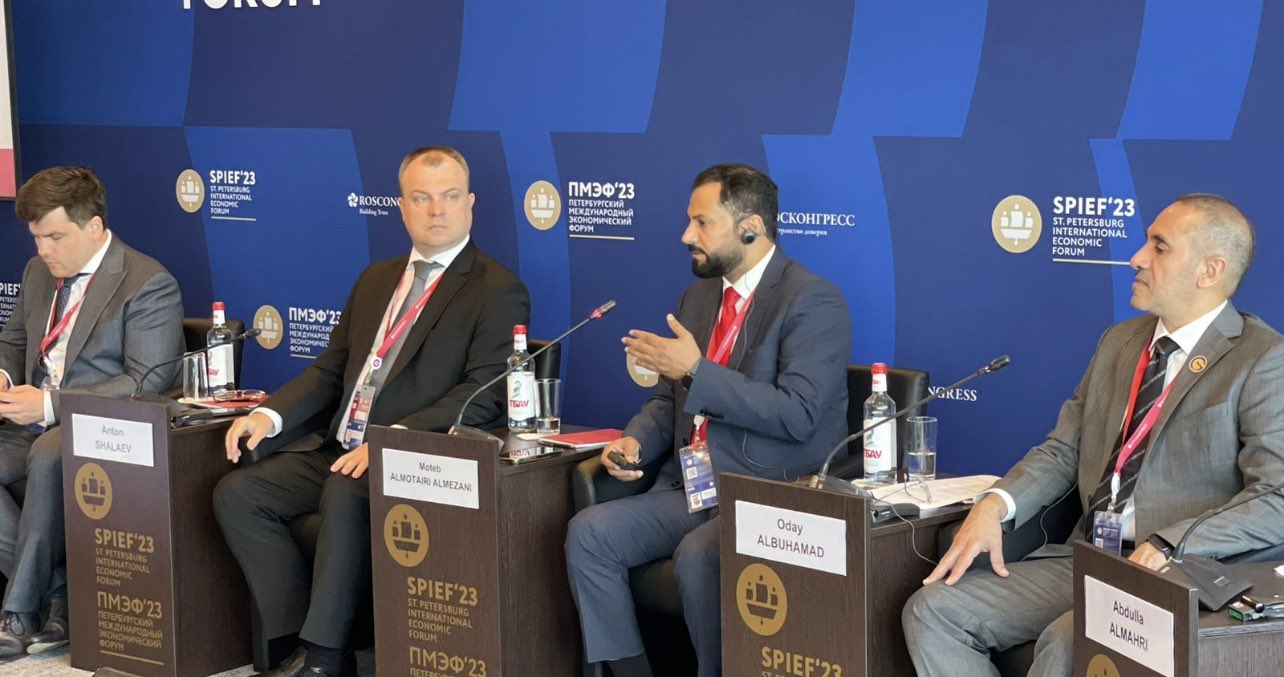 H.E the Director General of the GCC Accreditation Center (GAC), Eng. Moteb Al-Mezani, participated in the International Conference on Economics in St. Petersburg. H.E discussed the role of accreditation in supporting intra-trade and facilitating trade exchange, and the role that accreditation plays in controlling products to instill consumer confidence, especially in halal products, with the participation of a number of managers and officials. In the Russian Federation of Accreditation Services (RusAccreditation), which was represented by H.E Mr. Nazary Skripnik, the Head of Russian Standards, Mr. Anton Schlaifez, and the Head of the Russian Quality System, Mr. Maxim Protasov.
In the discussion session, H.E Eng. Moteb Al-Mezani explained in his speech,"The halal certificate means not only compliance with certain basic religious requirements, but also emphasizes the complete safety of this product for human health," explained Dr. Moteb Al Mezani, Director General of the GCC Accreditation Center (GAC), explaining the level of requirements. Nevertheless, while in Islamic countries the requirements are different, and if the Arab states as a whole have agreed on their positions, then, for example, in Southeast Asia, the standards are slightly different.
– Shalaev said.
Russia decided not to wait for relevant decisions at the global level, according to the Head of Russian Standards Mr. Anton Shlayev, they developed their own set of technical standards for "Halal" GOST. He said, I note that Russia became the first non-Muslim country in the world where such a standard was developed. This emphasizes the respect of the state for the citizens of our country of the Islamic faith, and also speaks of the desire of our manufacturers to enter the foreign market with new volumes of supplies,"
The participation of the GCC Accreditation Center, represented by its Director General, is one of the most prominent participations through which the center works within its strategic plan to expand the horizons of local and international cooperation to highlight the role of accreditation in all its fields and to ensure that all international requirements and standards are met for the development of services to serve the interests of the GCC countries in the economic and commercial market. and developmental.
Халяль на экспорт. Россия готова нарастить поставки в исламские страны | ПМЭФ-2023 | Деньги | Аргументы и Факты (aif.ru)